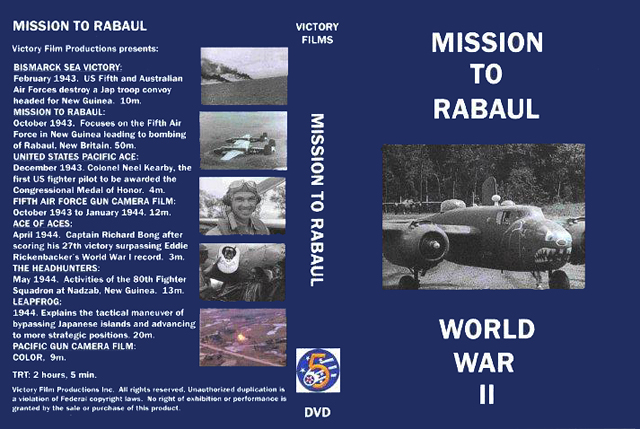 "Bismarck Sea Victory" - 1943. US 5th AF and Australian Air Forces destroy a Japanese troop convoy headed for New Guinea.
"Mission to Rabaul"
- 1943. Focuses on the 5th AF in New Guinea leading to bombing of Rabaul, New Britain.
"US Pacific Ace"
- 1943. Col. Neel Kearby was the first US fighter pilot to be awarded the Medal of Honor.
5th Air Force Gun Camera Film - 10/1943 to 1/1944. "Ace of Aces" - April 1944. Capt. Richard I. Bong after scoring his 27th victory, surpassing Eddie Rickenbacker's World War I record of 26.
80th Fighter Squadron "Headhunters"
- May 1944. P-38 Lightnings and personnel of the 80th FS at Nadzab, New Guinea.
Leapfrog: 1944
- Documentary explains the tactical maneuver of bypassing Japanese islands and advancing to more strategic positions.
Pacific Gun Camera Film
- In
COLOR
.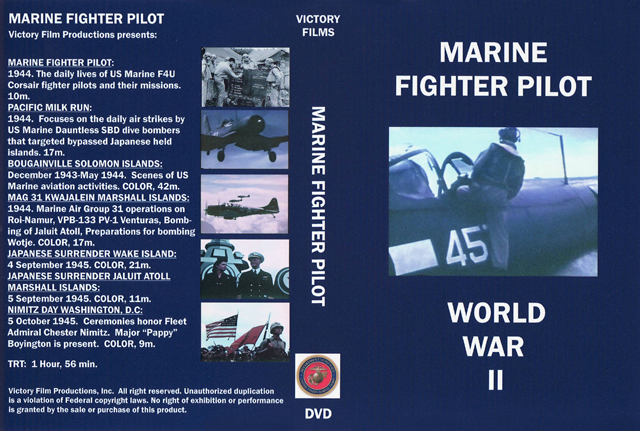 "Marine Fighter Pilot" - 1944. The daily lives of Marine F4U Corsair fighter pilots and their missions. B/W.
Pacific Milk Run
- 1944. Focuses on the daily air strikes by Marine Corps SBD Dauntless dive bombers that targeted bypassed Japanese held islands. B/W
Bougainville Solomon Islands
- December 1943 - May 1944. Scenes of US Marine aviation activities.
COLOR
.
MAG 31 Kwajalein Marshall Islands - 1944. Marine Air Group 31 operations on Roi-Namur; VPB-133 PV-1 Ventura; Bombing of Jaluit Atoll; Preparations for bombing Wotje. COLOR. Japanese Surrender on Wake Island - 4 September 1945. COLOR.
Japanese Surrender Jaluit Atoll, Marshall Islands
- 5 September 1945.
COLOR
.
Nimitz Day, Washington D.C.
- 5 October 1945. Ceremonies to honor Fleet Admiral Chester Nimitz. Black Sheep VMF-214 commanding officer Major Gregory 'Pappy' Boyington, Medal of Honor, is present.
COLOR
.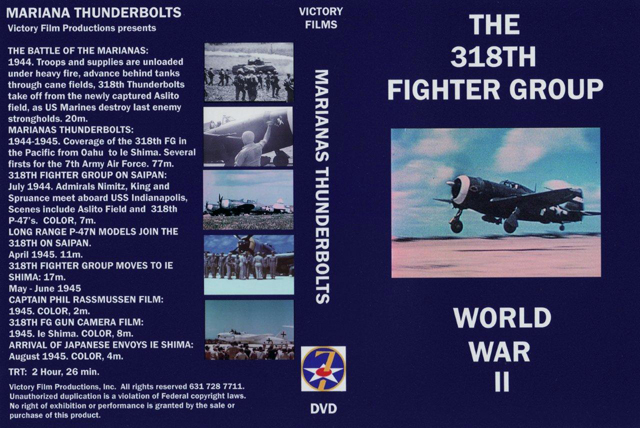 The Battle of the Marianas - 1944. Troops and supplies are unloaded under heavy fire and advance behind tanks through cane fields. 318th Thunderbolts take off from the newly captured Aslito Field, as US Marines destroy the last enemy strongholds. 20 min. Marianas Thunderbolts - 1944-1945. Coverage of the 318th FG in the Pacific Theater from Oahu to Ie Shima. Several firsts for the 7th Army Air Force. 77 min. 318th Fighter Group on Saipan - July 1944. Admirals Nimitz, King, and Spruance meet aboard USS Indianapolis. Scenes include Aslito Field and 318th P-47s. 7 min.
Long-range P-47N Thunderbolts join the 318th on Saipan - April 1945. 11 min. 318th Fighter Group moves to Ie Shima - May-June 1945. 17 min. Capt. Phil Rasmussen Film - 1945. COLOR. 2 min. 318th FG Gun Camera Footage - 1945. Ie Shima. COLOR. 8 min. Arrival of Japanese Envoys to Ie Shima - August 1945. Film of the famous "White Bettys". COLOR. 4 min.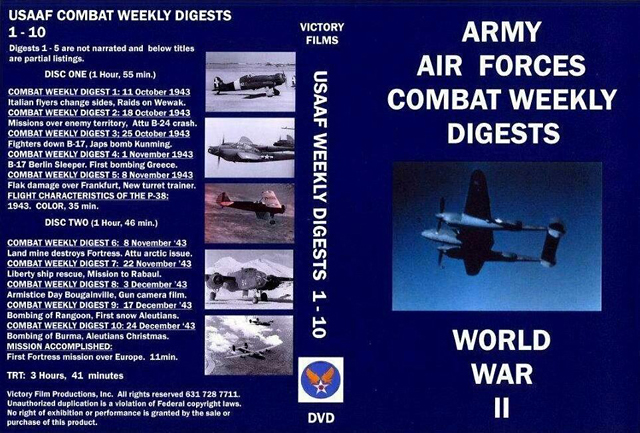 Three Hours, 41 Minutes on Two Discs of the US Army Air Forces' Combat Weekly Digests #1 thru #10!
CWD #1 - 11 October 1943 - Bombing of Rekata Bay, building of Kahili airdrome, bombing of Buka airdrome, Italian flyers change sides, bombing of Iserna and Pratica De Mare, Italy; raids on Wewak. CWD #2 - 18 October 1943 - Missions over enemy territory, Beauvais and St. Pol, France, Ghent, Belgium, Attu B-24 Liberator wrecked, bombers over Italy, Amantea bridge, Crotone RR yards, Catanzaro, Corleta, Salerno, raid on Potenza, Brenner Pass, Trento, Castel Nuovo, Bolzano, Fifth Army lands at Salerno, airstrip built in 24 hours, P-38 Lightning crash. CWD #3 - 25 October 1943 - Bombing of Beaumont Le Roger airdromes, France, Stuttgart, Germany. German fighters down B-17 Flying Fortress, Japanese bombers damage Kunming air base, bombing Nassau Bay New Guinea, Guadalcanal. Fighter escort. CWD #4 - 1 November 1943 - Haiphong bombing, Berlin Sleeper, B-25 Mitchell group to Italy, First bombing of Axis airfields in Greece, Vella Lavella in Solomons chain, Hansa Bay, Wewak crash. CWD #5 - 8 November 1943 - Bridge construction Esprito Santo, Flak damage over Frankfurt, New turret gun trainer. BONUS: Flight Characteristics of the P-38 Lightning - 35-minute color wartime film to aid young flyers in getting up to speed on the sleek Lightning. DISC ONE NOT NARRATED, RUN TIME 1 hr, 55 min.

CWD #6 - 8 November 1943 - Battle damage and casualties, wet weather moving operations, North Africa, land mine destroys B-17, radar alert Attu, bombing of Ballale and Kahili, mission to Wewak, Nadzab and Lae, New Guinea, gun camera film. CWD #7 - 22 November 1943 - LIberty ship rescue, crash landing and repair, East India, malaria control, Guadalcanal, Vella Lavella, New Georgia, bombing of Kahili, Bougainville Island, mission to Rabaul. CWD #8 - 3 December 1943 - Bombing of Hanoi and Haiphong, Indochina, Munda, Armistice Day, Bougainville, Buka, Empress Augusta Bay, gun camera film. CWD #9 - 17 December 1943 - Bombing of Rangoon, Burma, Fenton Field, Darwin, Australia, Empress Augusta Bay, first snow, Aleutian Islands, Blanche Bay, Rabaul, New Britain, mission to Nauru, Gilberts. CWD #10 - 24 December 1943 - Adak, Aleutians, bombing of Burma, Sedan, Letapan, Lashio, Bassein, Meza Bridge, 'Twas the night before Christmas, Attu. BONUS: Mission Accomplished - Flying Fortress mission over Europe - 11-minute 8th Air Force film. DISC TWO RUN TIME 1 hr, 46 min.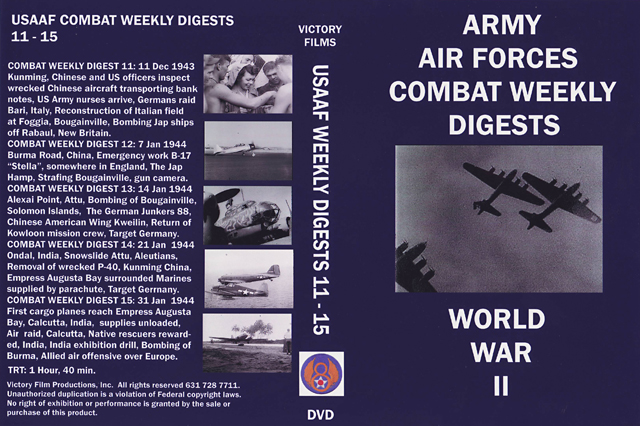 One Hour, 37 Minutes of the US Army Air Forces' Combat Weekly Digests #11 thru #15!
CWD #11 - 11 Dec 1943 - Kunming, Chinese and US officers inspect wrecked Chinese aircraft transporting bank notes, US Army nurses arrive, Germans raid Bari, Reconstruction of Italian field at Foggia. Bombing Japanese ships off Rabaul, New Britain. CWD #12 - 7 Jan 1944 - Burma Road, China, Emergency work on B-17 Flying Fortress "Stella" - somewhere in England. Japanese "Hamp" strafing Bougainville, gun camera. CWD #13 - 14 January 1944 - Alexai Point, Attu. Bombing of Bougainville, Solomons Islands, German Junkers Ju 88, Chinese American Wing Kewilin, Return of Kowloon mission crew, Target Germany.
CWD #14 - 21 Jan 1944 - Ondal, India, Snowslide Attu, Aleutians, Removal of wrecked Curtiss P-40, Kunming, China, Empress Augusta Bay - surrounded US Marines supplied by parachute, Target Germany. CWD #15 - 31 Jan 1944 - First cargo planes reach Empress Augusta Bay, Calcutta, India, supplies unloaded, Air raid, Calcutta, Native rescuers rewarded, Bombing of Burma, Allied Air Offensive over Europe.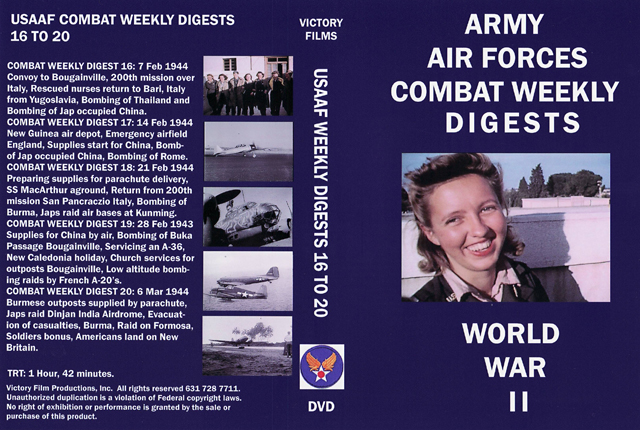 One Hour, 42 Minutes of the US Army Air Forces' Combat Weekly Digests #16 thru #20!

CWD #16 - 7 Feb 1944 - Convoy to Bougainville; 200th mission over Italy; Rescued nurses return to Bari, Italy, from Yugoslavia; Bombing of Thailand and bombing of Japanese-occupied China. CWD #17 - 14 Feb 1944 - New Guinea air depot; Emergency airfield England; Supplies start for China; Bombing of occupied China and Rome. CWD #18 - 21 Feb 1944 - Preparing supplies for parachute delivery; SS MacArthur aground; Return from 200th mission San Pancraczio Italy; Bombing of Burma; Japanese raid air bases at Kunming, China.
CWD #19 - 28 Feb 1944 - Supplies for China via air; Bombing of Buka Passage Bougainville; Servicing a North American A-36 Apache (dive-bombing version of the P-51 Mustang); New Caledonia holiday; Church services for outposts on Bougainville; Low altitude bombing raids by French A-20 Havocs. CWD #20 - 6 Mar 1944 - Burmese outposts supplied by parachute drops; Japanese raid Dinjan India airdrome; Evacuation of casualties; Raid of Formosa; Soldier's bonus; Americans land on New Britain.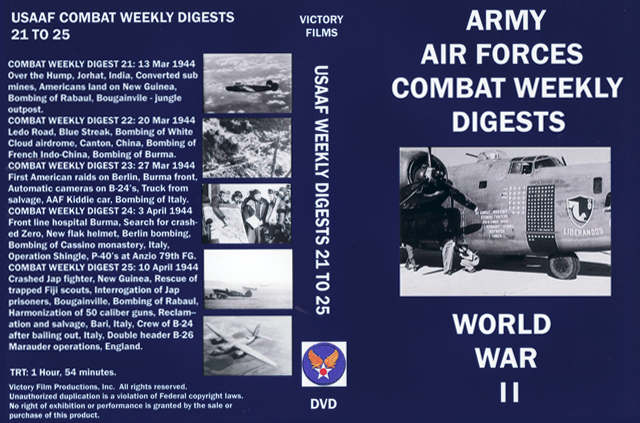 One Hour, 54 Minutes of the US Army Air Forces' Combat Weekly Digests #21 thru #25!
CWD #21 - 13 Mar 1944 - Over the Hump. Jorhat, India. Converted sub mines. Americans land on New Guinea. Bombing of Rabaul, Bougainville jungle outpost. CWD #22 - 20 Mar 1944 - Ledo Road. Blue Streak. Bombing of White Cloud airdrome. Bombing of French Indo-China. Bombing of Burma. CWD #23 - 27 Mar 1944 - First American raids on Berlin. Burma front. Automatic cameras on B-24 Liberator bombers. Truck from salvage. USAAF kiddie car. Bombing of Italy.
CWD #24 - 3 Apr 1944 - Front line hospital Burma. Search for crash-landed Japanese fighter. New flak helmet. Berlin bombing. Bombing of Cassino Monastary, Italy. Operation Shingle. P-40 fighters at Anzio, 79th Fighter Group. CWD #25 - 10 Apr 1944 - Crashed Japanese fighter, New Guinea. Rescue of trapped Fiji scouts. Interrogation of Japanese prisoners on Bougainville. Bombing of Rabaul. Harmonization of .50 calibre guns. Reclamation and salvage, Bari, Italy. Crew of B-24 after bailing out, Italy. Double-header B-26 Marauder operations, England.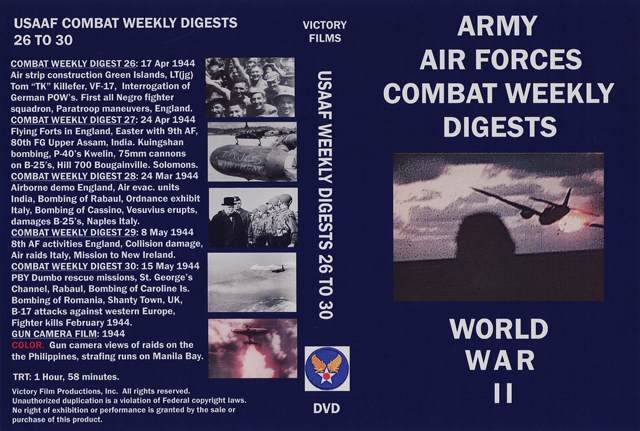 CWD #26 - 17 April 1944 - Airstrip construction Green Islands; Lt (j.g.) Tom "TK" Killefer, VF-17 Jolly Rogers Corsair pilot; Interrogation of German POWs. First all-Negro fighter squadron; Paratroop maneuvers in England. CWD #27 - 24 March 1944 - B-17 Fortress bombers in the UK; Easter with the 9th Air Force; 80th Fighter Group at Upper Assam, India; Kuingshan bombing; P-40s at Kwelin; 75 mm cannons on B-25 Mitchell mediums; Hill 700 Bougainville, Solomons. CWD #28 - 24 April 1944 - Airborne demo in England; Air Evac units in India; Bombing of Rabaul; Ordnance exhibit in Italy; Bombing of Cassino; Mt. Vesuvius erupts, with B-25 damage at Naples, Italy.

CWD #29 - 8 May 1944 - 8th Air Force activities in England; Collision damage; Air raids in Italy; Mission to New Ireland. CWD #30 - 15 May 1944 - PBY Catalina "Dumbo" rescue missions; St. George's Channel; Rabaul; Bombing of Caroline Islands; Bombing of Romania, Shanty Town, UK; B-17 attacks against western Europe; Fighter kills February 1944. GUN CAMERA FILM: 1944 - *Color* gun camera footage views of raids on the Phillipines and strafing runs on Manila Bay. TOTAL RUN TIME 1 hr, 58 min.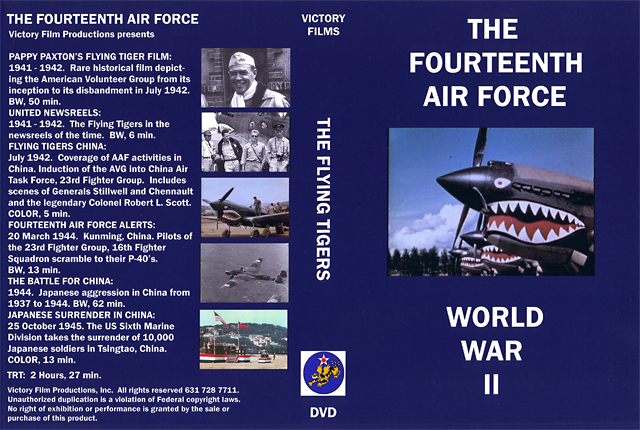 ** NOTE - 14th AF/Flying Tigers is temporarily sold out **
Nearly two and a half hours featuring the AVG and 23rd Fighter Group -
The Flying Tigers - and much more!
Our restoration of Pappy Paxton's AVG Flying Tiger film, 1941 - 1942 - Notable personalities shown include Claire V. Chennault, Madame Chiang Kai-Shek, Brig Gen Caleb Haynes, Col Robert Scott and photographer G.L. Paxton.

Highlights include: Central Aircraft Manufacturing Company (CAMCO) office showing people working at desks, and New York skyline as seen from window (CAMCO was hiring agent for Chinese Government). AVG volunteers outside building. Ship "Jagersfontein" at pier in San Francisco, and American Volunteer Group (AVG) members boarding ship. Scenes aboard "Jagersfontein" showing men and women posing for photos, Alcatraz Prison, wives and relatives on pier, warehouse at Pier 19, group around table, underside of the Golden Gate Bridge, and AVG volunteers with woman. Aloha tower in Honolulu harbor, street scenes and AVG volunteers sightseeing. US flag painted on side of ship. Scenes aboard ship as it leaves Honolulu; also shows Diamond Head. Japanese liner "Yawata Maru" in harbor. Views of ocean as seen from ship and from auto tour of eastern shore of Oahu, Hawaii. Three AVG volunteers wearing Hawaiian shirts and leis at railing, others of group playing shuffleboard, ping pong, and darts, writing letters and sleeping. King Neptune ceremony (for crossing Equator) aboard ship.
Men splashing around in ship's swimming pool and taking part in King Neptune ceremony, intercut with cruiser and other unidentified ships at sea. British officer and staff at airfield, intercut with Beech 18 and P-40B parked, and P-40Bs taking off. AVG pilots scrambling and P-40Bs taxiing. Street scenes in Rangoon, landmarks include Sule Pagoda Road, Shwe Dagon Pagoda, Savoy Restaurant, Silver Grill Club, and harbor. AVG pilots on veranda of building, in dining room and outside the Pawley Hostel in Loi Wing, China. Airfield, P-40B taking off, and man and woman at front of P-40B. Group of AVG pilots looking at decorations awarded by Chinese government. Group of AVG pilots beside P-40B and sitting outside building. AVG pilots scrambling from building and re-entering building, posing for photo at front of P-40B. Chennault and staff posing for photo in front of map of China - Chennault in light uniform. Paxton with another AVG pilot and getting in his car. AVG personnel working in office. Street scenes in Kunming, China. P-40Bs parked near grove of trees. World famous writer Claire Boothe Luce, there to write an article about the Tigers, and Olga Greenlaw pay a visit. P-40B in flight (color). Madame Chiang Kai-Shek and Chennault at airport. AVG pilots talking together, Paxton getting out of his car, and pilots in barracks and at airfield intercut with coolies pulling roller to flatten runway. Street scenes in Bombay. AVG pilots sitting on bench, standing in doorway, shooting craps, and in office. AVG pilots beside C-47 ready to depart for China. Chennault in copilot seat of C-47, and AVG pilots aboard aircraft, also shows rivers, and landing at Kunming. Buildings, street scenes, intercut with Chennault, Brig Gen Haynes, and Col Scott standing together, and AVG pilots relaxing. Airfield with parked C-47s, P-40Bs taking off, Chinese and AVG pilots at airfield and P-40Bs making passes over airfield. Ajax Baumler's P-40B burning, and wreckage of Japanese plane. P-40Bs parked and taking off. AVG pilots, and Japanese prisoner at side of P-40B. Formation of three P-40Bs in flight. Individual shots of three AVG personnel (Schilling, Pechter, Mikkelson). P-40B landing and taxiing in. Chennau1t and AVG pilots at side of P-40B. P-40Bs being fueled. AVG personnel lined up to get mail. BW 50 minutes.
United Newsreels 1941 - 1942
- The Flying Tigers in the newsreels of the time. BW 6 minutes.
Flying Tigers China - July 1942. Coverage of AAF activities in China. Induction of American Volunteer Group into China Air Task Force, 23rd Fighter Group. Includes scenes of Generals Stillwell and Chennault and Colonel Robert L. Scott, later author of "God is My Co-Pilot". Color 5 minutes.
Fourteenth Air Force Alerts - 20 March 1944. Kunming, China. Pilots of 23rd Fighter Group, 16th Fighter Squadron scramble to their P-40s. BW 13 minutes.
The Battle for China - Japanese aggression in China from 1937 to 1944. BW 62 minutes.
Japanese Surrender in China - 25 October 1945. The US Sixth Marine Division takes the surrender of 10,000 Japanese soldiers in Tsingtao, China. Color 13 minutes.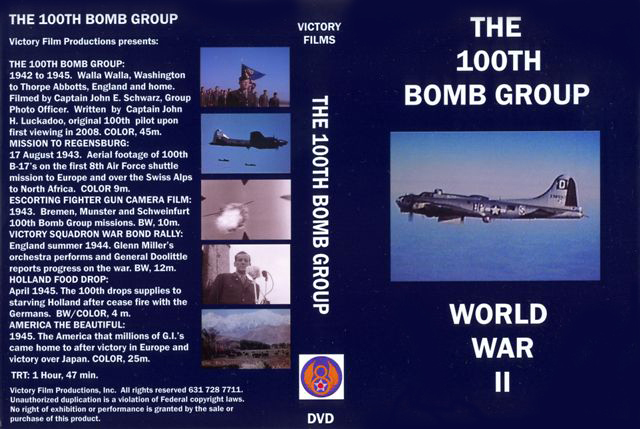 ** NOTE - 100th BOMB GROUP is temporarily sold out **
A remarkable look at the "Bloody Hundredth", one of the most renowned 8th Air Force B-17 Flying Fortress groups. Most of this DVD is in full color!
"The 100th Bomb Group" - 1942-1945. Walla Walla, Washington to Thorpe Abbotts, England and home. Filmed by Captain John E. Schwarz, group photo officer. Narration written by Capt. John H. Luckadoo, original 100th BG pilot, upon first viewing this film in 2008! COLOR. 45 minutes.
Mission to Regensburg - 17 August 1943. Aerial footage of 100th BG Fortresses on the first 8th Air Force shuttle mission to Europe and over the Swiss Alps to North Africa. COLOR. 9 minutes.
Escorting Fighters Gun Camera Footage - 1943. 8th AF fighter gun camera footage from the Bremen, Munster and Schweinfurt 100th Bomb Group missions. B/W. 10 minutes.
Victory Squadron War Bond Rally - England, Summer 1944. Glenn Miller's orchestra performs and 8th AF CG Jimmy Doolittle reports on progress of the war. B/W. 12 minutes.
Holland Food Drop - April 1945. The 100th drops supplies to starving Holland after the cease fire with the Germans. B/W & COLOR. 4 minutes.
"America the Beautiful" - BONUS! 1945. The America that millions of G.I.s came home to after victory in Europe and Japan. COLOR. 25 minutes.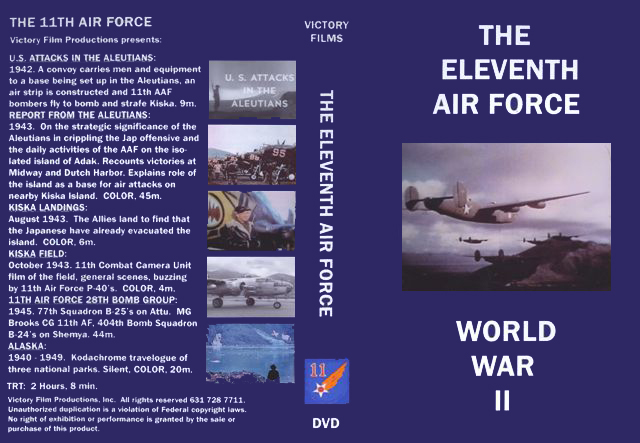 Scene Index:
Two hours of superb footage covering the Aleutians Campaign. Most of this film is in full color!
Part One: U.S. Attacks in the Aleutians - 1942. A convoy carries men and equipment to a base being set up in the Aleutians; an airstrip is constructed and 11th AAF bombers fly to bomb and strafe Kiska. 9 minutes.
Part Two: Report from the Aleutians - 1943. On the strategic significance of the Aleutians in crippling the Japanese offensive and the daily activities of the U. S. Army Air Forces on the isolated island of Adak. Recounts victories at Midway and Dutch Harbor. Explains role of the island as a base for air attacks on nearby Kiska Island. COLOR. 45 minutes.
Part Three: Kiska Landings - August 1943. The Allies land to find that the Japanese have already evacuated the island. COLOR. 6 minutes.
Part Four: Kiska Field - October 1943. 11th AF Combat Camera unit film of the field, general scenes, buzzing by 11th AF P-40s. COLOR. 4 minutes.
Part Five: 11th AF 28th Bomb Group - 1945. 77th Bomb Squadron B-25 Mitchell medium bombers on Attu. Maj Gen Brooks, Commanding General of the 11th Air Force, and 404th Bomb Squadron B-24 Liberator heavies on Shemya. 44 minutes.
Part Six: Alaska - Vintage Kodachrome Footage - BONUS! 1940-1949 travelogue of three national parks in color. Silent. 20 minutes.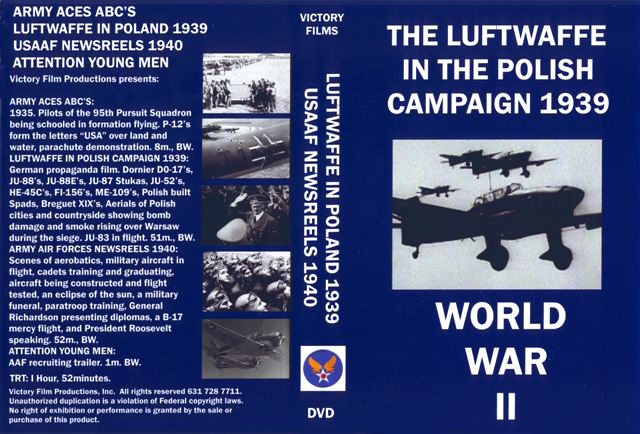 Detailed Scene Index:
Nearly two hours of superb rare footage! All in crisp black and white! Sound throughout!
Part One: Army Aces ABCs - 1935 footage of P-12 formations as they spell out U-S-A. Briefing, takeoff, and multiple views of the formations - some darn good formation flying there, fellas! Parachute ('aerial life preservers') demonstration over an airfield. Stick of parachutists jump out of an army trimotor. Includes slow-motion footage and plane-mounted camera angle. [Black and White. 8 minutes. Original Audio]
Part Two: Bilder vom Einsatz der Luftwaffe im Polenfeldzug - (Luftwaffe in Polish Campaign 1939; Film nr. 55). Original German wartime documentary with narration expertly translated into english. Really clean footage and presentation which reminds me of the popular AAF wartime in-depth documentaries we've all seen - complete with on-screen maps and superb aerial photography. Excellent and rare Stuka footage! Airfield attacks and interdiction missions. Battle damage to Luftwaffe planes, including one remarkable sequence where a Ju 87 arrives back home sans his gear! He makes a successful belly landing. Pilots at relaxation - great airfield scenes. Der Furher visits the front lines and eats in the field kitchen. [Black and White. 51 minutes. Narrated in English]
Part Three: AAF Newsreels 1940 - Tons of those Universal, Paramount, and Movietone shorts shown in 1940+ theaters covering all manner of military aviation topics. Bombers, fighters, people, testing, etc, etc. You'll really enjoy these. Crisp footage. [Black and White. 52 minutes. Original Audio]
Part Four: Attention Young Men - AAF recruiting 'short'. Nice AT-6 formation footage. [Black and White. 1 minute. Original Audio]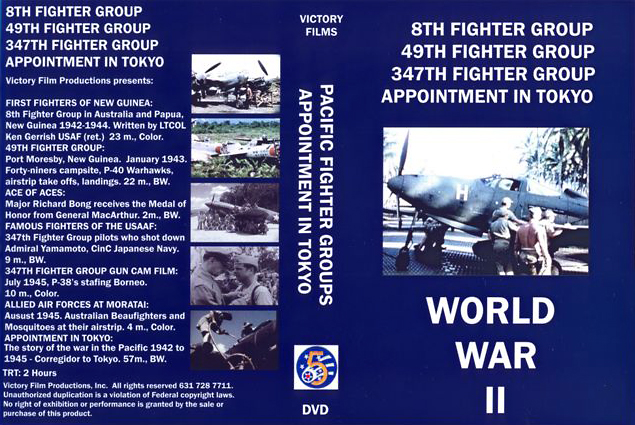 Detailed Scene Index:
2 hours of Pacific Theater Action, some of which is in color! Sound throughout!
Part One: 8th Fighter Group - Color film shot by Ken Garrish while serving in Australia and New Guinea, 1942-1944. Narrative also written by Garrish describing what we're seeing. 8th FG personnel, most veterans of prior tours, readying for 3rd deployment to New Guinea. Note the variety of uniforms! Milne Bay. P-39 Airacobra, P-38 Lightning action. Chow lines. P-38 pilots after a mission. Aftermath of Japanese attacks on the nearby bases. Zero and Betty wrecks at Lae. General George Kenney (5th AF chief) passes out medals at 3-mile airstrip. P-38 engine change in the field. B-25 strafers marshal out and depart. Rain - Rain - Rain! View from airborne B-17 Flying Fortress. View from PBY as we land on a river to pick up a downed Aussie pilot. Natives row him out to meet us - big smiles all around. P-39s landing in Australia. Natives help out in different ways! [Color. Narrated]
Part Two: 49th Fighter Group - Shot in January 1943 at Port Moresby, New Guinea. P-40 Warhawks taxi from jungle revetments and takeoff. Good view from rear as a pilot runs out, mounts up, cranks and taxies out. Takeoffs. B-17 Forts and B-24 Liberator landings. Aftermath of a B-25 Mitchell crash landing. *Lots* of P-40 four-ship flight peel off and landings ... good stuff! P-40s taxi to park. Individual pilot shots . . . pose, boys! Dismantling a Zero at Buna. Lineup of the 49th's pilots - recognize anybody? [Black and White]
Part Three: Richard Ira Bong - Various shots of America's top ace of all time: Medal of Honor presentation by Gen. MacArthur on 12/12/44, candid films, P-38 footage and gun camera stuff. [Black and White]
Part Four: 347th Fighter Group - These are the guys who downed Yamamoto on April 18, 1943 (first anniversary of the Doolittle Raid, by the way). Who exactly shot down the admiral has been subject to debate for years, but the smart money is on Rex Barber based on the totality of the physical evidence and scholarly research. Be that as it may, and personalities aside, all these men had "the right stuff". Here we have some candid and some staged film of Barber, Lanphier, Mitchell, Holmes, et al, in and around P-38s at Fighter II, their base on Guadalcanal near Henderson Field. As a bonus, we get audio of a few of the guys describing the mission in their own recorded words. [Black and White]
Part Five: 347th Fighter Group Gun Camera Film - Let's take a tour of Borneo - as seen from the gun camera of 347th FG P-38s in July 1945. Buildings, airplanes, boats and even powerpoles(!) are strafed. Some aerial engagements as well. [Color]
Part Six: Allied Air Forces at Moratai - Beaufighters and silver Mosquitoes in and around Moratai Island, Dutch New Guinea. [Color]
Part Seven: Appointment in Tokyo - Documentary-style film produced by the Army Pictorial Service with the cooperation of the Army Air Forces and U.S. Navy. Much actual captured Japanese film. Tells the story of the Pacific Theater of war. Concludes with the surrender ceremony on the USS Missouri. [Black and White. Audio]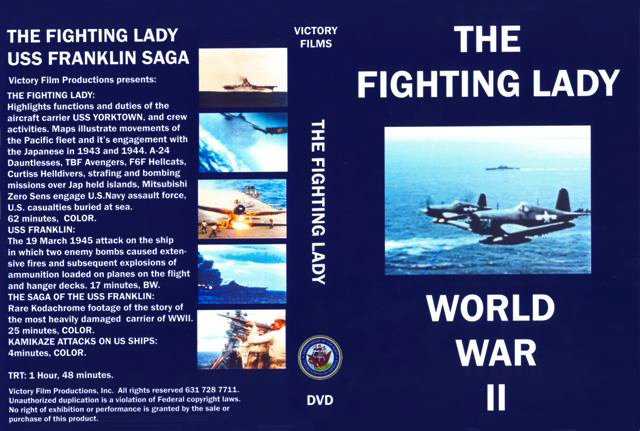 Detailed Scene Index:
1 hour, 48 minutes of WWII US Navy Carrier Action! Almost all of it in color from 16mm original film!
Part One: The Fighting Lady - Technicolor presentation of a true story photographed in combat by the US Navy under the supervision of famous photographer Edward J. Steichen (CDR, USNR). Narrated by actor Robert Taylor. Air Group landing fly on to carrier. F6F Hellcat, TBF Avenger and SB2C Helldiver action. Detailed explanation of USS Yorktown construction layout and ship's company jobs. Gunnery practice with the "big" guns. Panama Canal squeeze-through (literally!). Officer's Mess, pilots eating. Support compartments. UNREP at sea. 30 August 1943: Marcus Island - first target. Pilot briefing and suiting up. "Pilots, Man Your Planes!" Launch Aircraft! Excellent gun camera footage of strafing and dive bombing - airfields and ships. Recovery cycle and debriefing. Similar presentations of attacks on Marshalls, Truk, Marianas and Phillipine Sea battles. Kamikaze attacks. Crash landings on the Carrier. [Narrated. 62 minutes. All Color]
Part Two: USS Franklin - November 1945 documentary filmed before, during and after the horrible twin bombing of CV-13 on 19 March 1945. Very detailed analysis and report (for naval architects) of the Franklin's specific damage. Franklin was the most heavily damaged ship to steam back into port (eventually) under her own power. Good Corsair footage a bonus. [Narrated. 17 minutes. Black and White]
Part Three: The Saga of the USS Franklin - Complete story (from 16mm Kodachrome!) of the ups and downs of this brave ship and her men, based on her official Log Book. More good F4U Corsair footage - you can never have enough of that! [Narration. 25 minutes. Color]
Part Four: Kamikaze Attacks on US Ships - Attacks on US ships as seen from deck level. Sobering. [Narration. 4 minutes. Color]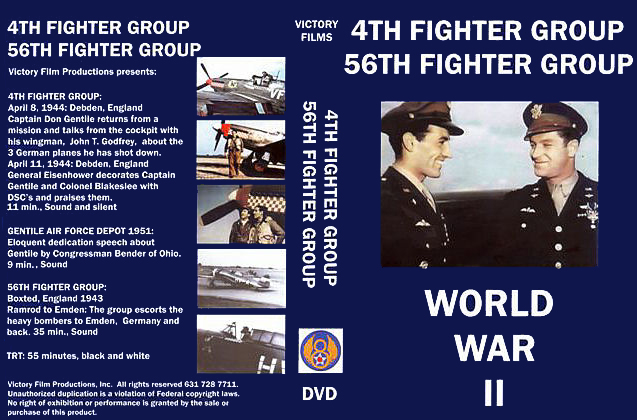 Scene Index:
Part One: 4th Fighter Group - (April 8, 1944): Don Gentile taxis across the grass at Debden and parks his famous P-51 Mustang "Shangri-La" at its usual hardstand in front of the 336 Fighter Squadron dispersal shacks (sound). From the cockpit, Gentile talks with his wingman John Godfrey about his last three victories and goes on to describe the engagements (sound). Several cuts of an interview with a female reporter (sound). (April 11, 1944): [out of sequence] - General Eisenhower's P-38 ride (landing - silent). Presentation of Distinguished Service Cross to Gentile and 4th Fighter Group commander Col. Don Blakeslee (various angles, sound and silent). VIPs at Debden Officer's Mess (silent). Ike goes for P-38 ride - strapping in and takeoff (silent). [11 Minutes, Black and White]
Part Two: Gentile Air Force Specialized Depot 1951 - Moving dedication speech of Gentile Air Force Specialized Depot, Ohio in late 1951. Features still photos of Gentile at Wright Field in 1945 (sound). [9 Minutes, Black and White]
Part Three: 56th Fighter Group - A 'documentary' of the 56th's "Ramrod to Emden" on 1 October 1943. Mission planning, etc., round out this excellent film. Great P-47 Thunderbolt feast (sound)! [35 Minutes, Black and White]
NOW AVAILABLE!

The complete 4th Fighter Group o

fficial 334th, 335th, and 336th Fighter Squadron
Operational Diaries - now in PDF format!


You will get one CD containing high-quality (printable) scans of the WWII Operational Diaries of all three WWII 4th FG squadrons. Do your research, and print out only what you need, as you need it. The CD contains 31 PDF format files (ordered and arranged by squadron and dates) consisting of over 2,500 pages and 88.4 MB! All can be viewed/printed with the popular Adobe Reader.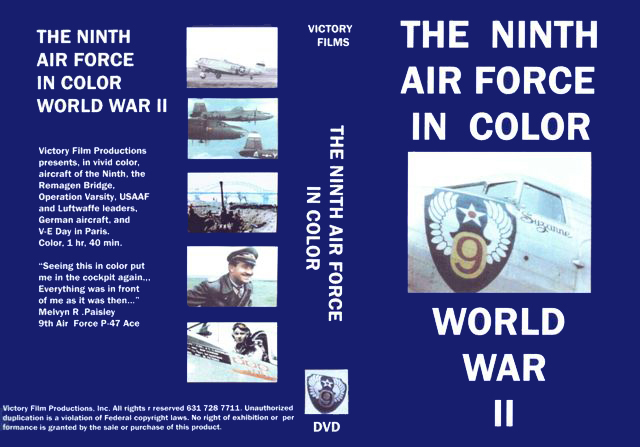 Detailed Scene Index:
All Color. 1 hour, 40 minutes! Sound on all aircraft parts.
Men and Aircraft of the 9th Air Force: Generous long cuts of Ninth Air Force planes and crews, including the A-20 Havoc, A-26 Invader, B-26 Marauder, P-47 Thunderbolt, P-38 Lightning and P-51 Mustang - including some awesome *color* gun camera film of dogfighting and strafing, P-61 Black Widow (in OD and Black paint schemes), crews relaxing, pilots briefing and mounting up - including famous 354th Fighter Group ace Bruce Carr and his "Angel's Playmate".
Ramagen Bridge: Defending the bridge against Germans trying to destroy it, as seen from the ground.
Operation Varsity: 24 March 1945. The largest single-day airborne operation in history. Super footage of C-47s and gliders.
USAAF/9AF and German leaders: Pete Quesada, Hoyt Vandenburg, and USAAF chief General Arnold decorating flyers. German notables (remember, this is all in color) seen soon after capture include: Goering, Galland, Kesselring, Von Runstedt and Hans-Ulrich Rudel.
German Aircraft: FW 190 (taxiing), Me 109, Me 110, Me 262, Ju 87 (taxiing).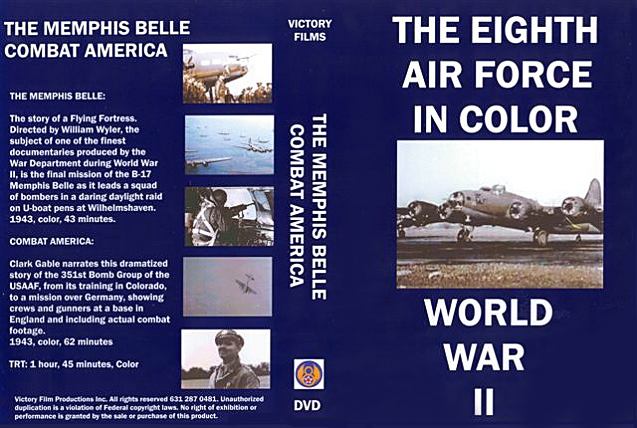 Detailed Scene Index:
All Color. 1 hour, 45 minutes of 8th Air Force and B-17 Flying Fortress footage! Sound Throughout.
"The Memphis Belle": William Wyler's classic wartime documentary about the 25th and final mission of the 91st Bomb Group B-17F "Memphis Belle" and her crew. Their successful completion of 25 missions - the first bomber and crew in 8th Air Force to complete a full tour of operations and go home - was cause for celebration and worthy of a documentary film. The result is without doubt the most famous Army Air Forces documentary to come out of the war. [Narrated. All Color]
"Combat America": Famous actor Clark Gable volunteered for Officer's Candidate School, finishing up in November 1942. Later, after earning his gunner's wings, Army Air Forces chief Gen. Hap Arnold directed Gable to proceed to England and make a documentary film concentrating on the combat phase of aerial gunnery, which would be used for instructional purposes of AAF personnel. The film was shot entirely "on location" in the air and on the ground with tons of footage of Eighth Air Force combat crews and planes, ground crews, off hours activities and even Capt. Gable's humorous advice to a ball turret gunner who was a pastry chef in civilian life. All aspects of life on an 8th AF station and the typical mission are shown in detail. Bob Hope even makes an appearance! Far from being a 'dry' documentary, the entertaining narration by "Rhett Butler" himself only adds to the overall impact of this fine film. [Narrated. All Color]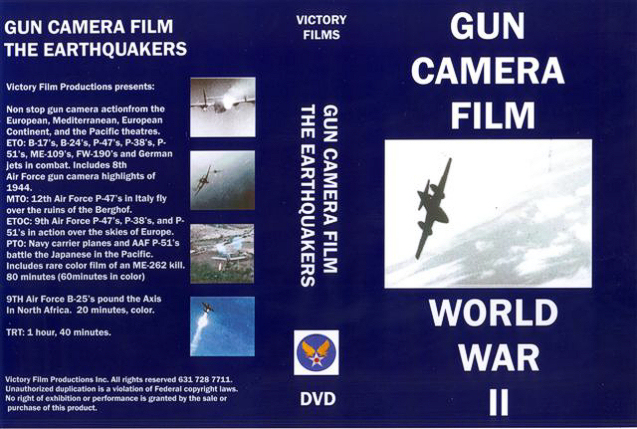 Detailed Scene Index:
1 hour, 40 minutes of Action, of which 80 minutes is in stunning color! Sound throughout!
Part One: European Theatre - 94th Bomb Group B-17 Flying Fortress and 56th Fighter Group P-47 Thunderbolt takeoffs. 55 FG P-38 Lightning takeoffs. German takeoffs - Me 109s, FW 190s and Me 262s. B-17 Fort and B-24 Liberator attack sequences. Germans under attack. Me-262s and 163s on film (this segment partly narrated by USAAF as part of training in recognizing these fast machines). Strafing by USAAF fighters ... land/water/bridges/trains - unbelievable low-level action mostly in near-Kodachrome color. 352 FG P-47s takeoff from Bodney. [Color and Black & White]
Part Two: Mediterranean Theatre of Operations - Fellow airplane lovers, this is crisp, clear color footage of P-47s takeoff sequences, strafing, dive bombing; in cockpit views and landings, including one uncut belly landing shot from runway's edge - you watch the guy slide right by you! [All Color]
Part Three: ETO "On the Continent" - 9th Air Force P-38s, P-47s, and P-51 Mustangs go to town. Strafing and dogfights captured in color. [All Color]
Part Four: Pacific Theatre - SBD Dauntless, P-40 Warhawk, P-39 Airacobra, and P-51 Mustang takeoffs. They strafe Japanese boats and airfields, then dogfight with fighters. Carrier action as well (takeoff and landings). [All Color]
Part Five: "The Earthquakers" - Wartime USAAF Documentary-style Film about the B-25 Mitchell-equipped 12th Bombardment Group (Medium). [All Color]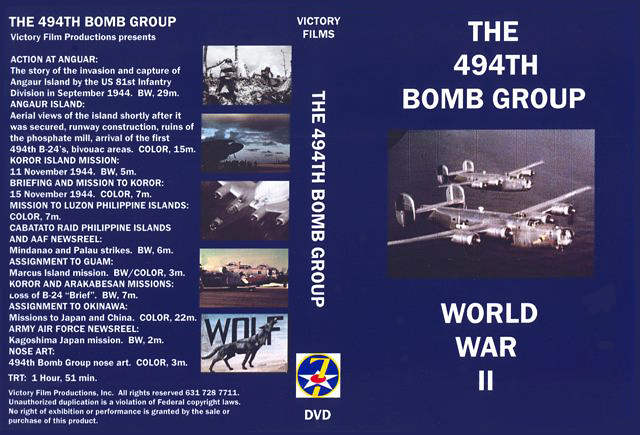 Scene Index
Nearly two full hours featuring the B-24s and men of the 7th Air Force's 494th Bomb Group, more popularly known in the Pacific as "Kelley's Kobras".

Action at Angaur - The story of the invasion and capture of Angaur Island by the US 81st Infantry Division in September 1944.
(COLOR) Angaur Island - Aerial views of the island shortly after it was secured. Runway construction, ruins of the phosphate mill, arrival of the first 494th Bomb Group B-24 Liberators. Bivouac areas.
Koror Island Mission - 11th November 1944 mission scenes.
(COLOR) Briefing and Mission to Koror - Great color footage of the 15th November 44 mission.
(COLOR) Mission to Luzon Island, Phillipines - More color film, this time the Luzon strike.
Cabatato Raid & Newsreel - Missions to Mindanao and Palau.
(BW & COLOR) Assignment to Guam - Marcus Island mission.
Koror & Arakabesan Missions - The 'famous' footage of the B-24 "Brief" going down after the wing folds after being bombed from above is highlighted. No, this wasn't shot in Europe!
(COLOR) Assignment to Okinawa - Missions to Japan and China.
AAF Newsreel - Kagoshima, Japan mission.
(COLOR) 494th Billboards (Nose Art!) - Great shots of the group nose art. Modelers paradise!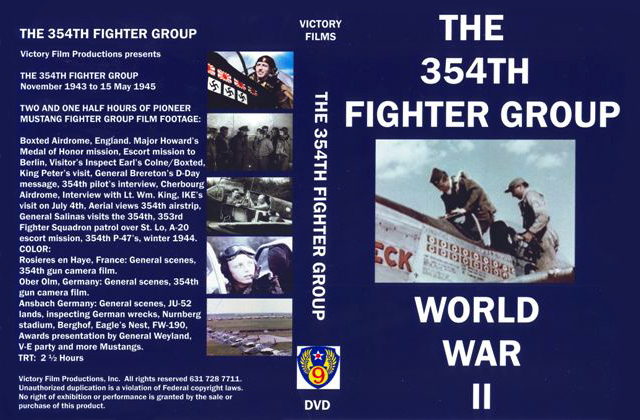 Detailed Scene Index
Two and a Half Hours of the Pioneer P-51 Mustang Group in Action in Black and White and Color!

Early History of the 354th Fighter Group - Dockside offloading brand new P-51 Mustang fighters from ships. Mustangs on trucks through Liverpool streets. Takeoffs and landings at Boxted airdrome. Maj. James H. Howard, famous American Volunteer Group Flying Tigers veteran, and the only ETO fighter pilot recipient of the Medal of Honor (for actions on 11 Jan 1944), taxis and takes off in his P-51B "Ding Hao!". Gun Camera footage of Maj. Howard and Lt. Styrsky. March 8th mission to Berlin - 94th BG B-17 Flying Fortress heavies taxi and takeoff. B-17s landing/taxi scenes. On 13 April 1944 VIPs inspect the B-26 Marauder equipped 323rd Bomb Group at Earl's Colne, and then the 354th at Boxted. They watch the activities of both groups.
Youthful King Peter II of Yugoslavia visits the 354th on 1 May 1944. Capt. Don Beerbower meets with the King. Airfield scenes. Jim Howard meets with Gen. Eisenhower at Middle Wallop in May 1944. Ike talks with pilots and then climbs into a P-47 set up at the firing butts and lets loose with some .50 cal 8-part harmony! 9th Air Force CG MGen Louis H. Brereton's invasion message of May 1944.
D-Day June 6, 1944 - P-51s land after their second D-Day mission. Pilot interviews and discussion about their experiences, what they saw, etc. (great stuff!). June 1944 354th FG gun camera films.
To the Continent in Late June 1944 - The group moves to France. C-47 Skytrain takeoffs and landings on their dirt strip at Criqueville (A-2). P-51s takeoff and then do many multiple low-level "beat ups" of the field from all directions - giving the ground personnel (and our cameraman by the runway) a real treat. Interview with Georgia boy Lt. William B "Ben" King, pilot of "Atlanta Peach". Classic talk from a typical "kid" fighter pilot of WWII. This "kid" became an ace with 5.5 victories!
Capt. Don Beerbower, later KIA, receives the Silver Star and smiles for the camera. Beerbower taxis his 'Bonnie "B" II' out from a camouflaged shelter - good look at his famous kite. 4 July 1944 - General Elwood "Pete" Quesada, CG of IX Fighter Command, takes Gen Eisenhower for a ride in a dual-seat P-51B Mustang for a look at the front lines (note to modelers: after the mission, the name "The Stars Look Down" was applied to the nose). Aerial views of A-2 airstrip as seen on 7th July. Some gun camera film of July 1944. Gen. Salinas, CG of Mexican Air Force, visits the group on 23 July.
353rd Fighter Squadron on Patrol over St. Lo on 27 July. Bubble top and Malcolm Hood P-51s takeoff. More moves for the group on the continent. P-47 Thunderbolt action in the bitter cold and snow.
Color films - Lots of gun camera film from the 354th. Mustangs! Mustangs! Mustangs! Taking off, low-level, landing, taxiing, pilots getting in and out, etc., etc. Sit back and relax to the tunes courtesy of Rolls-Royce (well, Packard if you want to get technical about it). Lots of general airfield and maintenance scenes as well.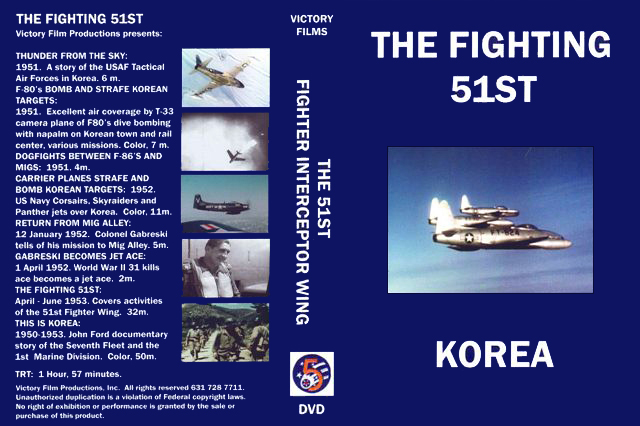 Detailed Scene Index
Nearly Two Solid Hours of Korean War Action in Color and Black and White . . . Cinch Down Your Straps!

Part One: "Thunder From the Sky" (1951) - A story of Tactical Air Forces in Korea. C-47 airborne loudspeaker, the voice of UN fair and humane treatment for North Korean troops who will surrender. US Air Force Lockheed F-80 Shooting Star and straight-wing Republic F-84 Thunderjet bombing and strafing. camera footage and napalm attacks shown.
Part Two: F-80s Bomb and Strafe (1951) - Color footage shot from a T-33 Shooting Star of F-80s dive bombing Korean targets. Crisp - looks like it was shot yesterday!
Part Three: Dogfights Between F-86s and MiGs (1951) - North American F-86 Sabre gun camera films.
Part Four: Carrier Planes Strafe and Bomb (1952) - Color film showing US Navy Vought F4U Corsair, Douglas AD Skyraider "Spad", and Grumman F9F Panther carrier-based planes strafing and bombing targets. Rocket strafing and low flying highlight the footage. Carrier landings on USS Philippine Sea (CV-47). Striking below on elevators with engines running - cool!
Part Five: Return From MiG Alley (12 January 1952) - WWII 56th Fighter Group P-47 Thunderbolt ace Col. Francis S. Gabreski, one of only seven Americans to "make ace" in two wars, taxis in at Suwon AB, South Korea after a mission. Shown from the cockpit of his 51st Fighter Interceptor Wing F-86 talking with his crew chief about the mission and their role in Korea (audio included). He then gets out and signs the Form 1. Comments how this particular jet seems to have more thrust than any of the others he's flown. Great footage of one of the most popular aces of all time (We have similar WWII footage of "Gabby" - and other pilots - available on our "Fight for the Sky" title).
Part Six: Gabreski Becomes a Jet Ace (1 April 1952) - Short film of Gabby as he returns from his 5th victory mission, making him an ace in two wars! Smiles all around!
Part Seven: "The Fighting 51st" (April - June 1953) - Covers activities of the 51st FIW under the command of Col. Francis S. Gabreski. Shows Korean natives engaged in daily activities and gun camera footage of MIG-15s under attack. Col. Gabreski is introduced and speaks from rostrum. Pilots being briefed in Joint Operations Center (JOC). F-86F Sabre being fueled and armed. Scenes of weather personnel taking temperature readings and plotting WX maps.

Pilots at briefing. Pilot preflight walk-around checking F-86E with crew chief. Name of aircraft: JOANIE II. Scenes of F-86Es and F-86Fs taxiing from parking position and then taking off. Personnel relaxing in club between missions, playing cards, reading and recreational activities. Shows Korean natives performing housework and farming activities. Scenes of Korean religious temples, shrines and idols. Church services at Suwon AB chapel. Scenes of USAF chaplain and personnel distributing clothing at Korean orphanage.

Formations of four F-86Fs in flight. Gun camera film of MIG-15s under attack. Emergency trucks parked near runway. Formation of five F-86s peeling off over Suwon AB, landing singly, and taxiing to parking area. Man, talk about greaser landings! F-86F being pushed manually backwards into parking revetment.
Part Eight: John Ford's "This is Korea" (1950-1953) - Color John Ford documentary story of the Seventh Fleet and the 1st Marine Division.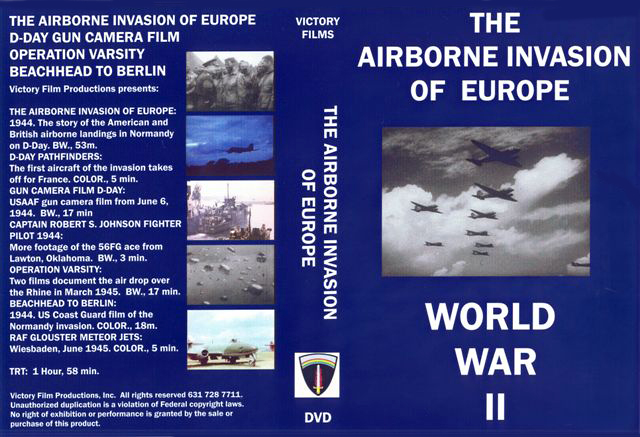 Scene Index:
Loads of Action centered on the June 6th, 1944 D-Day Invasion of Normandy. Great Color Footage a bonus!
Part One: The Airborne Invasion of Fortress Europe - Excellent wartime documentary produced by the Army Air Forces Combat Film Service. IX Troop Carrier Command is given the task of delivering airborne assets to Normandy. The Invasion of Sicily was a first run. CG-4A Waco and British "Horsa" precision glider landings practiced. Different types of combat aircraft tested to tow gliders: B-25 Mitchell, P-38 Lightning, and even the PBY Catalina were tried out! B-17 Flying Fortress double tows and C-54 Skymaster triple-tows tried out as well. All manner of cargo load-tested in gliders and tow planes. C-47 Skytrain glider tows. Super footage from multiple angles. Low flying and glider field-landing practice with live loads. Heh heh ... watch those trees! Airborne tow-plane pick ups practiced. The missions of the 'Pathfinder' crews, those who would drop first and set up navigational beacons and scout landing sites, are described.
101st and 82nd Airborne Division troops arrive at the airfields. Weapons issued. Barracks scenes. Invasion stripes applied to the planes - another lesson from Sicily. C-47s are prepped and loaded with 18 paratroops each. Gen. Dwight D. Eisenhower visits the airborne troops before they load up. Lounging next to the planes before takeoff. Jumpmasters inspect all equipment before boarding. The first Pathfinder aircraft is airborne at 2154 hrs. 30 minutes later, the troop carriers begin departing. At the DZs, 821 airplane loads drop 13,000 paratroops in less than two hours.
At 0200, the first glider cells head for France. B-26 Marauder missions blast coastal defenses ahead of the surface landings, then move on to interdict roads and bridges to isolate the battlefield from enemy reinforcement. P-51 Mustang, P-47 Thunderbolt, and P-38 Lightning fighters strafe everything in sight that appears to be a legitimate target. British VI Airborne Division conducts simultaneous activities throughout the day. 82nd and 101st get down to business. IX Troop Carrier Command commended by combat commanders. [Narrated. Black and White]
Part Two: D-Day Pathfinders in Color - Various scenes shot in color. Awesome. Here's one for the trivia buffs: What was the serial number of the very first plane to take off for the invasion of Normandy? What was unique about their plane's markings? What were the crew's names? Want to see the faces of the first paratroops to drop on Normandy? Want to see a fully-outfitted paratrooper riding a motor scooter around a C-47? You'll find out and see it all in color in this feature. Geez, look at those sloppy invasion stripes! Do that on a model and you'll be laughed off the contest table. Handshakes all around as the first plane of the invasion loads up. [Color]
Part Three: Fighter Gun Camera Footage - June 6th, 1944 - Awesome - and very clear - aerial and strafing gun camera film all dated June 6th. Don Emerson, Jim Goodson, Glenn Duncan - they're all here doing their thing. Superb low-level flying! [Black and White]
Part Four: Capt. Robert S. Johnson, 56th Fighter Group - Outtakes of the famous Wolfpack ace in and around his famous P-47 left over from our "Fight for the Sky" title (also available from Wade Meyers Studios). Look at that waxed sheen on his Thunderbolt! [Black and White]
Part Five: Operation Varsity - Two films highlight the 24 March 1945 first airborne crossing and drop over the Rhine just northwest of Wesel. One C-46 Commando takeoff mishap I'm still trying to figure out - is he going to abort, or takeoff? Or abort? Or takeoff? Oops! Right into those parked planes ... WIPEOUT! Nice and clear C-47 and glider footage. B-24 Liberator bombers take part in support operations. [Narrated. Black and White]
Part Six: Beachhead to Berlin - COLOR film from the US Coast Guard of the Normandy invasion. Produced by Warner Bros. Superb and professional (of course). [Narrated. Color]
Part Seven: Royal Air Force Gloster Meteors - COLOR film shot at Wiesbaden in June 1945 of the new RAF Meteor jets. [Color]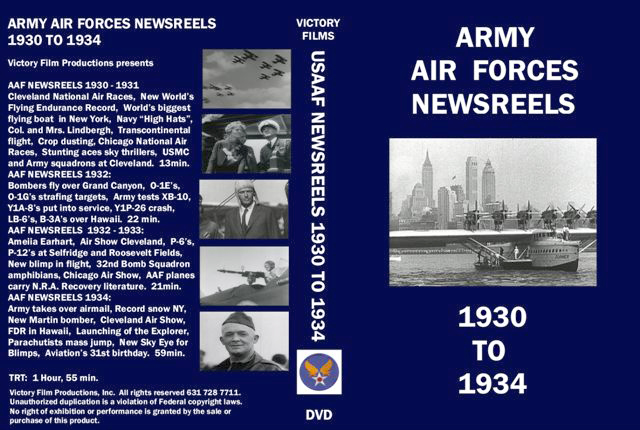 Scene Index:
TONS of US Army Air Forces Newsreels from the Between-the-Wars era. Nearly TWO hours worth!
Part One: USAAF Newsreels 1930 to 1931 - Cleveland National Air Races. New world's flying endurance record. World's biggest flying boat in New York. US Navy "High Hats" demo team. Col. and Mrs. Charles A. Lindbergh. Transcontinental flight. Crop dusting. Chicago National Air Races. Stunting aces sky thrillers. USMC and US Army squadrons at Cleveland. 13 minutes.
Part Two: USAAF Newsreels 1932 - Army bombers fly over the Grand Canyon. O-1Es and O-1Gs strafing targets. Army tests XB-10. Y1A-8s put into service. Y1P-26 crash. LB-6s and B-3As over Hawaii. 22 minutes.
Part Three: USAAF Newsreels 1932-1933 - Amelia Earhart. Air Show in Cleveland. P-6s and P-12s at Selfridge and Roosevelt Fields. New blimp in flight. 32nd Bomb Squadron amphibians. Chicago Air Show. Army planes carry N.R.A. Recovery literature. 21 minutes.
Part Four: USAAF Newsreels 1934 - Army takes over Airmail routes. Record snow in New York. New Martin bomber. Cleveland Air Show. President Franklin D. Roosevelt in Hawaii. Launching of the Explorer. Parachutists mass jump. New Sky Eye for Blimps. Aviation's 31st birthday. 59 minutes.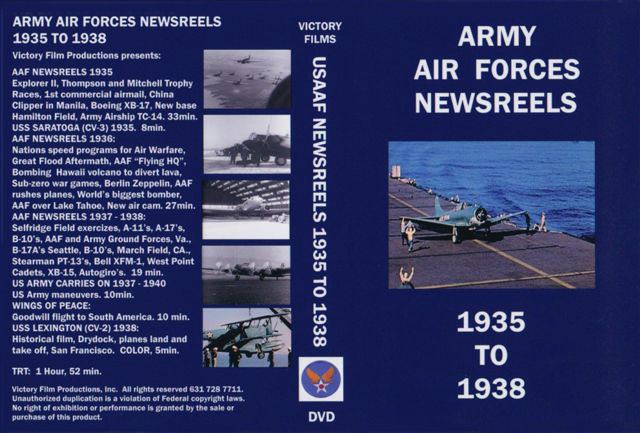 Scene Index:
*MORE* US Army Air Forces Newsreels from the Between-the-Wars era. Sit back and relax - great stuff!
Part One: AAF Newsreels 1935 - Explorer II; Thompson and Mitchell Trophy races; 1st commercial airmail; China Clipper in Manila; Boeing XB-17; New base Hamilton Field; Army airship TC-14. 33 minutes.
Part Two: USS Saratoga CV-3 1935 - Scenes of 'Sara' from 1935. 8 minutes.
Part Three: USAAF Newsreels 1936 - Nations speed programs for air warfare; Great flood aftermath; AAF "Flying HQ"; Bombing Hawaii volcano to divert lava; sub-zero war games; Berlin Zepplin; AAF rushes planes; World's biggest bomber; AAF over Lake Tahoe; New aerial camera. 27 minutes.
Part Four: USAAF Newsreels 1937 - 1938 - Selfridge Field exercises; A-11s, A-17s, B-10s, USAAF and US Army ground forces, Va.; B-17 in Seattle; B-10s; March Field, Ca.; Stearman PT-13s; Bell XFM-1; West Point cadets; XB-15; Autogiros. 19 minutes.
Part Five: US Army Carries On 1937 - 1940 - US Army maneuvers. 10 minutes.
Part Six: Wings of Peace - Goodwill flight to South America. 10 minutes.
Part Seven: USS Lexington CV-2 in COLOR 1938 - Super historical film of the "Gray Lady"; Drydock; Planes land and take off; San Francisco. Color, 5 minutes.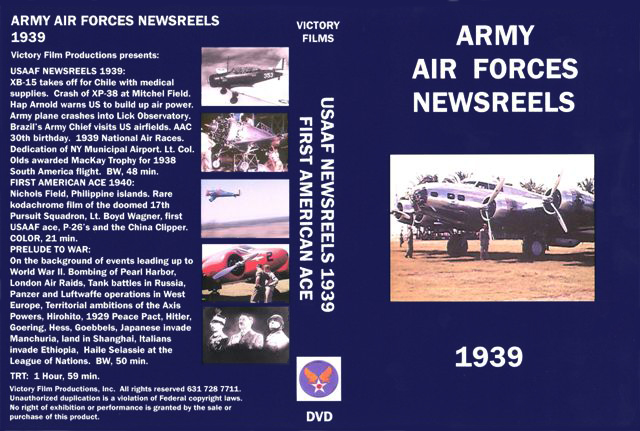 Scene Index:
Two Hours of Newsreels Covering the Prelude To and Beginnings of World War Two!
Part One: USAAF Newsreels 1939 - XB-15 takes off for Chile with medical supplies. Crash of XP-38 at Mitchel Field. Hap Arnold warns US to build up air power. US Army plane crashes into Lick Observatory. Brazil's Army chief visits US airfields. AAC's 30th birthday. 1939 National Air Races. Dedication of NY Municipal Airport. Lt. Col. Olds and 2nd Bomb Group awarded 1938 MacKay Trophy for their goodwill flight to Buenos Aires, Argentina and return. 48 minutes.
Part Two: First American Ace 1941 - Nichols Field, Philippine Islands. Rare Kodachrome film of the doomed 17th Pursuit Squadron. Lt. Boyd D. "Buzz" Wagner became the USAAF's first ace on 16 December 1941. P-26s and the China Clipper. COLOR - 21 minutes.
Part Three: Prelude to War - Background of events leading up to World War Two. Bombing of Pearl Harbor. London air raids. Tank battles in Russia. Panzer and Luftwaffe operations in Western Europe. Territorial ambitions of the Axis powers. Hirohito. 1929 Peace Pact. Hitler, Goering, Hess, and Goebbels. Japanese invade Manchuria; land in Shanghai. Italians invade Ethopia. Haile Selassie at the League of Nations. 50 minutes.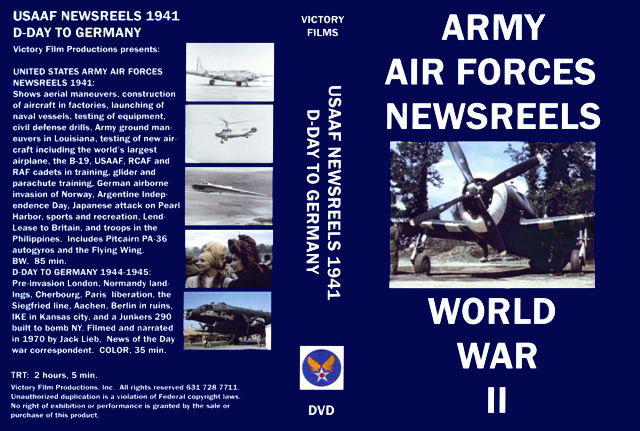 Scene Index:
TONS of US Army Air Forces Newsreels & Rare Jack Lieb Color Footage!
USAAF Newsreels 1941 - Covering every subject under the sun, you'll enjoy these MovieTone, Paramount, and Universal newsreels done for the US Army Air Forces. Subjects and aircraft include, but are definitely not limited to: Donald Douglas showing off his new A-20 Havoc in Santa Monica; Allison engines being assembled in Indianapolis; Douglas B-18 Bolo at Mitchel Field; Pitcairn PA-36 "Whirlwing" Autogiro; Boeing Plant open house; early model B-17 Flying Fortress bombers; Martin B-26 Marauder medium bombers being put through the paces; production of P-40 fighters at Curtiss plant; B-24 Liberator; P-38 Lightning; Vought-Sikorsky VS-300 helicopter; World's biggest bomber, the Douglas B-19; Stearman PT-17; Scenes of B-17Ds at Nichols Field, Hawaii, on flight line after arrival from USA; RAF cadets training in Stearman PT-17s at Dallas; Bell P-39 Airacobra; Scenes of P-40C Tomahawk taking off and breaking speed record with 661 MPH dive; Major General George Patton, Commander 2nd Armored Division at Ft. Benning, Georgia and 66 other officers and enlisted men signing up for private flying school in Columbus, Ohio; National Air Olympics at Dayton, Ohio; Boeing P-26 Peashooter and Martin B-10 takeoffs and landings at Clark Field, Philippines; and so, so much more. I haven't even begun to scratch the surface of this 1 hour, 25 minute presentation. [Original Audio. Black and White]
D-Day to Germany - News of the Day war correspondent Jack Lieb shot some stunning color footage as he traveled around London and the continent before, during and after D-Day, 6th June 1944. In 1970 he put narration to the film and this is the candid result. Awesome behind the scenes remembrances from the guy who shot the film. [Narrated. Color]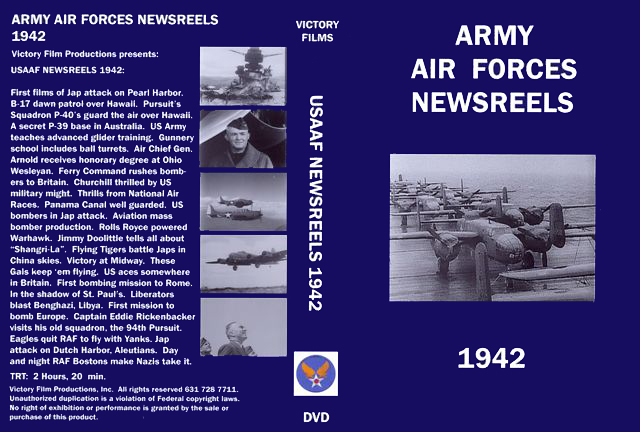 Scene Index:
2 hours, 20 Minutes of Great Footage!
Highlights Include - First films of Japanese attack on Pearl Harbor. B-17 dawn patrol over Hawaii. P-40s guard the air over Hawaii. A secret P-39 base in Australia. US Army teaches advanced glider training. Gunnery school includes ball turrets. Air Chief Gen. Hap Arnold receives honorary degree at Ohio Wesleyan. Ferry Command rushes bombers to Britain ...
Winston Churchill thrilled by US military might. Thrills from US National Air Races. Panama Canal well guarded. US bombers in Japanese attack. Aviation mass bomber production. Rolls-Royce powered Curtiss Warhawk. Jimmy Doolittle tells all about "Shangri-La" base of his B-25 Mitchells (wink). Flying Tigers battle Japanese in China Skies. Victory at Midway. These gals keep 'em flying ...
US aces somewhere in Britain. First bombing mission to Rome. In the shadow of St. Paul's. B-24 Liberator bombers blast Benghazi, Libya. First mission to bomb Europe. Capt. Eddie Rickenbacker visits his old squadron, the 94th Pursuit. RAF Eagles join the USAAF and 8th Air Force. Japanese attack on Dutch Harbor, Aleutians. Day and night RAF Bostons make Nazis 'take it.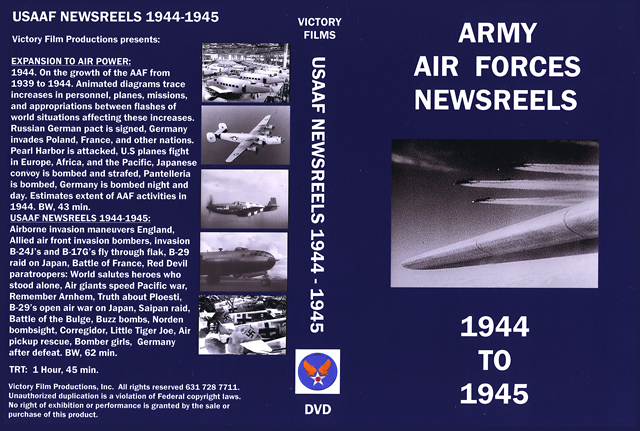 Scene Index:
1 hour, 45 minutes of U. S. Army Air Forces history!
"Expansion to Air Power" - 1944. On the growth of the USAAF from 1939 to 1944. Animated diagrams trace increases in personnel, planes, missions, and appropriations between flashes of world situations affecting these increases. Russian - German pact is signed. Germany invades Poland, France, and other nations. Pearl Harbor is attacked, U.S. planes fight in Europe, Africa, and the Pacific. Japanese convoy is bombed and strafed. Pantelleria is bombed. Germany is bombed 'round the clock. Estimates extent of AAF activities in 1944. BW, 43 minutes.
USAAF Newsreels 1944 - 1945 - Lots of great newsreel action, including: Airborne invasion maneuvers in England. B-24 Liberator and B-17 Flying Fortress bombers fly through flak. B-29 Superfortress raid on Japan. Battle of France. Red Devil paratroopers: World salutes heroes who stood alone. Air giants speed Pacific War. Remember Arnhem. Truth about Ploesti. Saipan raid. Battle of the Bulge. Buzz bombs. Norden bombsight. Corregidor, Little Tiger Joe, Air pickup rescue. Bomber girls. Germany after the defeat. BW, 62 minutes.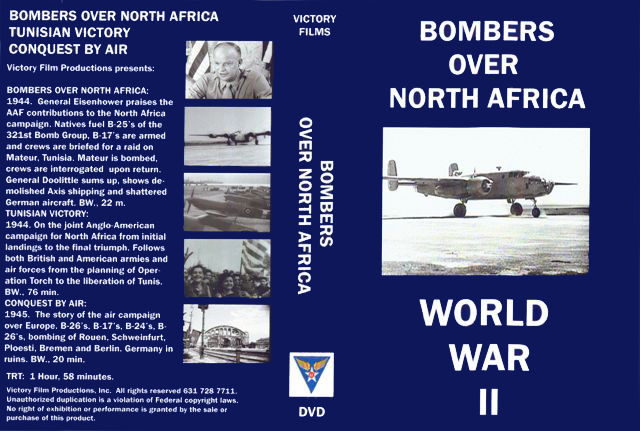 Scene Index:
Nearly two hours . . . sound throughout!
Part One: Bombers Over North Africa - General Eisenhower introduces the film and praises the USAAF's contribution to the North African campaign. Natives fuel B-25 Mitchell mediums of the 321st Bomb Group. B-17 Flying Fortress crews are briefed for a raid on Mateur, Tunisia. Very nice B-25 and B-17 taxi and takeoff footage. The mission is flown, and crews are debriefed upon their return. Gen. Jimmy Doolittle sums up, and shows demolished axis shipping and shattered Luftwaffe aircraft. [Sound. B/W. 22 minutes]
Part Two: Tunisian Victory - Covers the joint Anglo-American campaign for North Africa from the initial landings to the final triumph. Follows the British and American armies and air forces from the planning of Operation Torch to the liberation of Tunis. [Sound. B/W. 76 minutes]
Part Three: Conquest by Air - An Army Air Forces documentary film. The story of the air campaign over Europe geared towards the destruction of the Luftwaffe and the German capacity of wage war. B-26 Marauder, B-17 Flying Fortress, B-24 Liberator, A-20 Havoc and B-26 Invader bombers are featured, along with P-38 Lightning, P-51 Mustang and P-47 Thunderbolt fighters. The bombings of Rouen, Schweinfurt, Ploesti, Bremen and Berlin highlighted. German factories shown at full strength and post-bombing. [Sound. B/W. 20 minutes]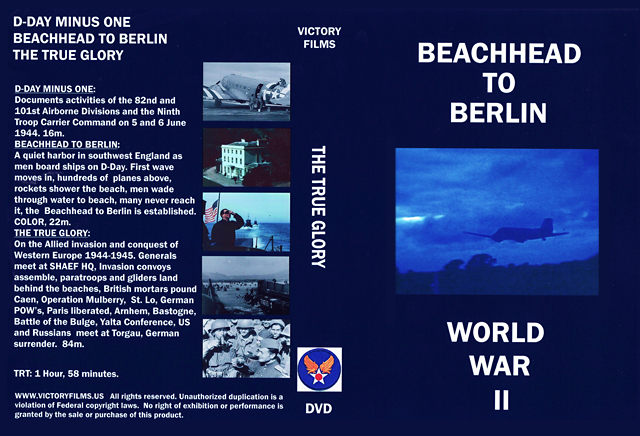 Nearly 2 hours covering the European Theater of War from D-Day to V-E Day!
D-Day Minus One - Documents activities of the 82nd "All American" and 101st "Screaming Eagles" Airborne Divisions and the Ninth Troop Carrier Command on 5th and 6th June 1944. b/w 16 minutes
Beachhead to Berlin - A quiet harbor in southwest England as men board ships on D-Day. First wave moves in, with hundreds of planes overhead, rockets shower the beach, men wade through the water to the beach - many never reach it - and the Beachhead to Berlin is established. Color 22 min.
The True Glory - Covers the Allied invasion and conquest of Western Europe 1944-1945. Generals meet at SHAEF HQ, Invasion convoys assemble, paratroops and gliders land behind the beaches, British mortars pound Caen, Operation Mulberry, St. Lo, German POWs, Paris liberated, Arnhem, Bastogne, Battle of the Bulge, Yalta Conference, US and Russians meet at Torgau, German surrender, Goering and other high-ranking officers are captured. b/w 84 min.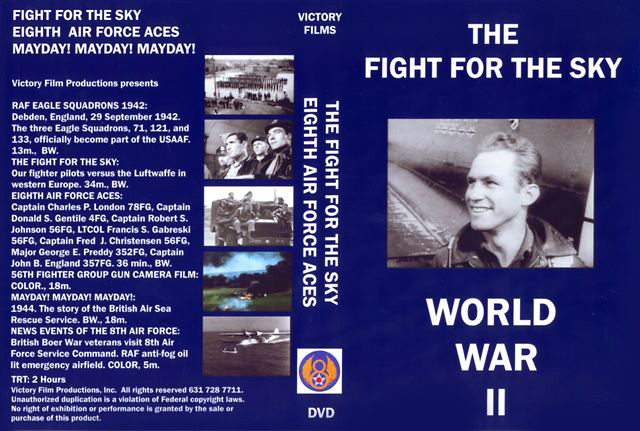 2 hours of 8th Air Force Aces and Action . . . Sound throughout!
RAF "Eagles" transfer to the Eighth Air Force - Original film from multiple cameras shot at Debden airfield during the 29 September 1942 transfer ceremony of the American-manned Royal Air Force 71, 121 and 133 Eagle Squadron personnel to the USAAF. They became the 334th, 335th and 336th Fighter Squadrons of the 4th Fighter Group based at Debden, Essex, England. The 4th was the only one of 8th Air Force's early fighter groups to remain attached throughout the war, and, flying the Spitfire, Thunderbolt, and Mustang the 4th finished the war as the top scoring US fighter outfit of all time when aerial and ground victories are combined. [Narrated. Black and White]
Fight for the Sky - This is the classic (and the best) wartime documentary showcasing the three main 8th Air Force (European Theater of Operations - England) fighters in all their glory: the P-38 Lightning, P-47 Thunderbolt and P-51 Mustang. A typical mission is planned and carried out. 56th FG ace Dave Schilling makes cameo appearances briefing his pilots and cranking his famous bubbletop P-47. Tons of air and ground film along with aces and gun camera footage. [Narrated. Black and White]
8th Air Force Aces - Awesome rare footage in and around their planes of notable 8th AF aces like Charles London (of the 78th Fighter Group, which was based at Goxhill and Duxford during the war); Don Gentile (4th Fighter Group - Debden); Francis Gabreski, Robert S. Johnson, Walker "Bud" Mahurin and Fred Christensen (56th Fighter Group - Kings Cliffe; Horsham St. Faith; Halesworth; and Boxted); George Preddy (352nd Fighter Group - Bodney; Chievres, Belgium; Bodney/again); and John B. England (357th Fighter Group - Raydon; Leiston).
Extensive actual gun camera film from several of the aces - "extreme close ups" of Luftwaffe Me 109, Me 110 and FW 190 fighters. Much of it remarkably clear. And a "welcome home" by their families for 4th FG aces Don Gentile and John Godfrey. An included bonus is 22-year old P-51 pilot Maj. John B. England's appearance on the radio program "Combat Thrills". [Black and White]
56th Fighter Group "Wolfpack" Gun Camera Film - Aces Col Hub Zemke, Lt Col David Schilling, and Lt Col Francis Gabreski, along with a few others, let 'em have it in full color! Aerial and strafing footage. [Color]
Mayday! Mayday! Mayday! - A nice wartime documentary on the vital Air-Sea Rescue Service. If you ditched in the Channel, these guys became your angels. Good Emergency Rescue Squadron Thunderbolt and Catalina film. [Narrated - Black and White]
News Events of the Eighth Air Force - British Boer War veterans visit 8th AF Service Command. RAF anti-fog oil lit emergency airfield. [Color]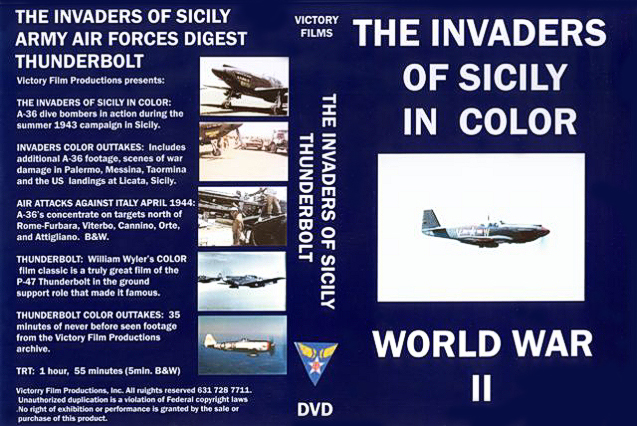 Detailed Scene Index:
Almost 2 hours of Italian Campaign fighter operations. All but 5 minutes in Color!
"The Invaders of Sicily": Army Air Forces' documentary film shot in the summer of 1943. The A-36 Invader was the dive bomber version of the famous P-51 Mustang. A-36s and their pilots are shown in splendid color as they mount up and then fly missions against Italian targets. The Invaders are shown strafing and dive bombing bridges, rail and road junctions. [Narrated]
Outtakes - "Invaders of Sicily": Additional footage from the above film including A-36s, ground crews at work, and damage to targets as shot later from the ground. Men are shown exploring a wrecked He-111, FW-190, and Macchi C.202. C-47s make an appearance, too! [Background Music]
"Air Attacks Against Italy" (April 1944): Army Air Forces "Weekly Digest" film about the A-36s and their work against Italian targets near Rome. Fubara strafing, Viterbo dive bombing and strafing, Canino Airfield strafing, Orte motor transport strafing, and Attigliano dive bombing are featured. [Narrated. B/W]
"Thunderbolt": Lt Col William Wyler's well-known 1944 documentary film about the 57th Fighter Group stationed at Alto Airbase, Corsica. Lots of good P-47 Thunderbolt sights and sounds. Film narration by later well-known actor Lloyd Bridges. Introduction by Jimmy Stewart.
Outtakes - "Thunderbolt": Never before seen and unbelievably clear footage of personnel, P-47s, and Italian cities. Gorgeous ultra-close P-47 formation on a B-25 (Sheesh! Why didn't they include this footage in the original film?). Painting squadron nose art on engine cowling panel. Loading and arming bombs on a P-47. Aircraft maintenance. More Thunderbolts in flight and on the ground. Wrapped up with some good A-26 Invader, B-26 Marauder, B-24 Liberator and RAF P-47 cuts. [Some Actual Audio. Background Music]

Detailed Scene Index:
1 hour, 41 minutes of WWII Pacific stories and Action!
Part One: December 7th - Rarely seen theatrical release version of director John Ford's 1943 Academy Award-winning documentary about the Japanese attack on Pearl Harbor, Hawaii. Life in Hawaii before, during and after the attack is told through actual footage and dramatizations. Really a good insight into what it was like to be there. [Sound. 83 minutes. Black and White]
Part Two: The Great Asia War - Seized Japanese film which tells the story of the attack on Pearl Harbor. Fleet Admiral Yamamoto on the bridge, aerial footage of the actual attack filmed from Japanese planes, and stills of officers who attacked Pearl in suicide submarines. Japanese language narration. [8 minutes. Black and White]
Part Three: The Battle of Midway - Directed by John Ford. Technicolor from 16mm original film. PBY arrival, sea taxiing, docking. B-17 Flying Fortress planes and crews - taxi and takeoffs. Japanese attack! Gun emplacements. Planes taking off. Hangar fires. Fuel farm fires. Extensive damage around the island. Carrier ops: SBD Dauntless F4F Wildcat, TBD Devastator action. Carrier takeoffs. Multiple Japanese attacks on the ships. F4F aces: featuring John S. Thach and others. PBY Catalina rescue offloads on the island. Memorial Services. Burial at Sea. Results of battle. [Narration. 20 minutes. Color]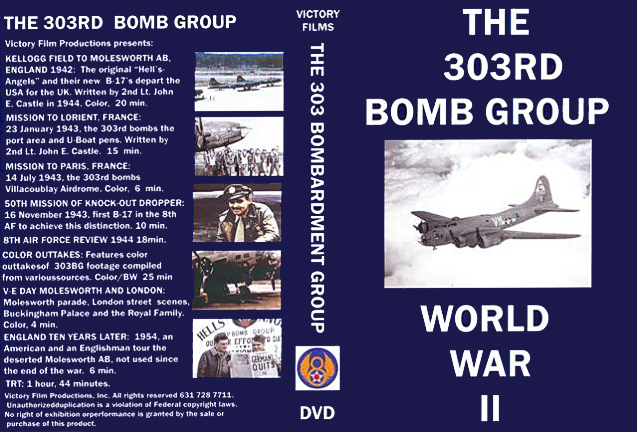 Detailed Scene Index:
1 hour, 44 minutes of 8th Air Force Heavy Bomber Action! Most in Outstanding Color! Sound throughout! This one is proving to be a top seller.
Part One: Heading to Molesworth, England - "Home Movies" narrated using script written by 2Lt. John E. Castle. Crystal-clear color scenes of B-17 Flying Fortresses at Kellogg Field. Super personnel shots. Tons of nose art. 12 October 1942 departure for Bangor, ME. In-flight shots. Newfoundland. Molesworth airfield scenes (mud, wind and ice ... you vets will feel like you're back). Practice Missions - high altitude and vapor trails for the first time! [Narrated. All Color]
Part Two: Operational Missions - Lorient, France (23 Jan 43): Mission Planning. Gunners. Loading Bombs. Turning props through. In the cockpit scenes. Flak. Fighters. Bombs Away! Losses. Back to Molesworth. Battle damage and repairs. Villacoublay, France (14 Jul 1943): Color film shot on this day's mission. Airborne and inside B-17s. Crews after mission. "Knock-Out Dropper's" 50th Mission (16 Nov 1943): [First Eighth Air Force B-17 to complete 50 missions. Later, she was the first 8th AF Fort to complete 75 missions. 17 different crews flew her. No major battle damage. Flew home and later scrapped in Stillwater, OK in July 1945]. Ground scenes. Pilots just before getting in. Firing up and taxi out. Lots of airborne shots. Landing and taxi back to dispersal. Crew welcomed home. Painting on that big 50th bomb. "Hell's Angels" gets another bomb symbol, too. Ground crews at work. Fall 1943: MGen. Eaker discusses the last year of 8AF operations - the "Bold Experiment". [Narrated. Color and B/W]
Part Three: 8th Air Force Review 1944 - Newsreel footage and highlights of 8th AF operations and people. Bombers and fighters. Lots of gun camera film. 56th Fighter Group P-47s. The Royal Family. Princess Elizabeth christens B-17G "Rose of York". [Narration. B/W]
Part Four: And if That Wasn't Enough - Outtakes: 303rd Bomb Group and other source footage. Various outtake scenes from Capt. Clark Gable's "Combat America", a film made about aerial gunners in action. Majority of the combat footage was shot with the 303rd Bomb Group. 352nd Fighter Group P-47s and pilots at Bodney - in color! Combat scenes. Lots of airfield and people shots, especially at Molesworth. V-E Day at Molesworth and in London: Ceremonies at Molesworth. Throngs of people in London celebrating. Royal family waving to the crowd. [Narration. Mostly Color with some B/W]
Part Five: Return to Molesworth - In 1954, an American USAF enlisted man and an Englishman toured Molesworth - with a camera. Absolutely priceless footage of "ten years later" showing the old buildings and the airfield in general. [B/W]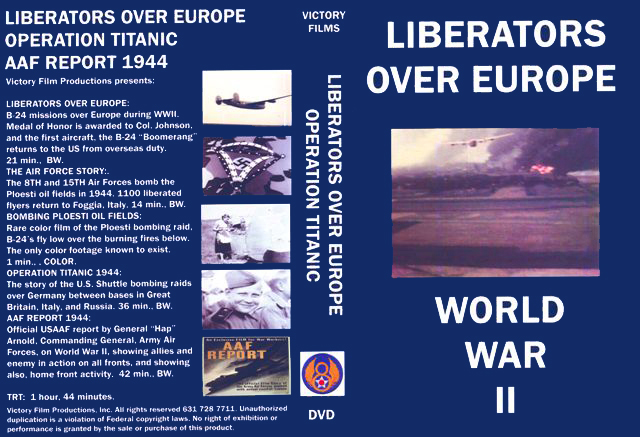 Detailed Scene Index:
1 hour, 44 minutes of 8th and 15th Air Force Heavy Bomber Action!
Part One: "Liberators Over Europe" - This wartime documentary is an overview of the contribution of the B-24 Liberator in the European Theatre of Operations, specifically the 8th Air Force's 2nd Air Division. Photographed by 3rd and 8th Air Force Combat Camera units. Ploesti footage. Col. Leon Johnson gets the Medal of Honor for his actions on the Ploesti raid.
B-24s landing and taxiing. "Bomerang", a veteran of Africa and the ETO, and a 'going home' crew are given a send-off ceremony prior to returning stateside. Lot of good footage of B-24s seen on their bases and in flight. [Narrated. B/W]
Part Two: "The Air Force Story - Ploesti: March - August 1944" - Chapter XX of the USAF's heritage film series. This film concentrates on the efforts to go through Hitler's "back door" and take out the vital Romanian oil fields. The different approaches to this task are shown. Good low-level B-24 ingress footage included. [Narrated. B/W]
Part Three: "Raid on Ploesti" - Ultra-rare color combat film shot in-flight on 1 August 1943 during a Ploesti raid. Photographed by SSgt. E. M. Gambrel of the 98th Bomb Group at 1350 hours. Over the smoking target and low level footage make this short film priceless 'gold'. [Silent. Color]
Part Four: "Operation Titanic" - "The War Department Presents: Operation Titanic". This is the complete story of the planning and execution of the summer 1944 Shuttle bombing raids from the UK to staging bases in Russia and Italy which endeavored to not only shorten mission times, but keep the Nazi regime guessing where we're coming from next. Good action footage of B-17 Flying Fortress planes and crews. Generous film of their time on the ground in Russia as well. [Narration/Audio. B/W]
Part Five: Army Air Forces' Report 1944 - Hosted by Army Air Forces Commanding General H. H. "Hap" Arnold, this is an in-depth look at what the AAF has been up to around the world, and on all fronts, from the AVG Flying Tigers to the airwar over Germany. [Narration/Audio. B/W]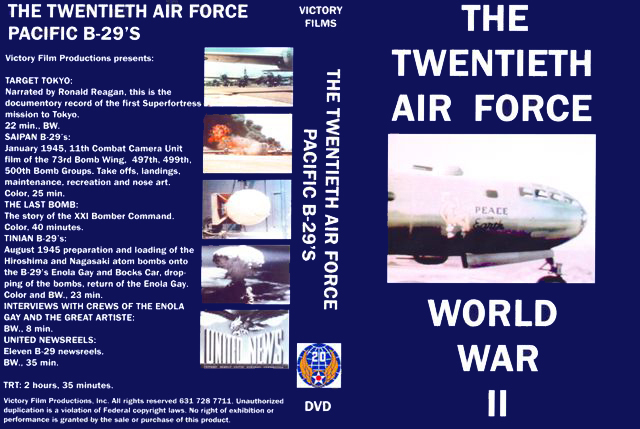 Detailed Scene Index:
2 hours, 35 minutes of B-29 Superfortress Pacific Theatre action on two discs! Color and Black and White Footage! Sound throughout!
Part One: "Target Tokyo" - Narrated by actor Ronald Reagan, this is a documentary record of the first Superfortress missions on Tokyo. Excellent airborne and ground B-29 footage. XXI Bomber Command formed and arrival in-theatre. Saipan airfield construction. Japanese attacks on Saipan. Typical Tokyo mission from crew briefing to landing. Dauntless Dotty's Robert Morgan and Vince Evans (of Memphis Belle fame) shown with plane and crew. Lots of nose art. Dawn takeoffs and night returns. [Narrated. B/W]
Part Two: Saipan B-29s - All color footage of operations on Saipan. B-29s along with their air and ground crews. B-29 crash. Repairs. Maintenance ops. Typical mission highlights from briefing to landing. P-38, P-47 and P-61 buzz the base and land. [Narrated. Color]
Part Three: "The Last Bomb" - All color documentary about the XXI Bomber Command story. Beautiful B-29 air and ground footage. Gen. LeMay approves a mission and the mission planning begins. Scenes from planning to landing are shown in glorious color. Mission fighter escort (P-51) shown escorting and then going down on the deck. All color gun camera footage. B-29 crash rescue. [Narrated. Color]
Part Four: Tinian B-29s - Color and Black and White footage of the preparation and loading of the atomic bombs on the Enola Gay and Bock's Car. Film of Tibbets' crew before takeoff, then engine start and takeoff. Enola Gay returns to Tinian and Paul Tibbets is immediately presented with the DSC by Gen. Spaatz. [Narrated. Color and B/W]
Part Five: Crew Interviews - Interviews with the Enola Gay and The Great Artiste crews. They briefly describe their personal experiences on the first atomic mission. [Audio. B/W]
Part Six: United Newsreels - A selection of eleven B-29-related United Newsreels round out this B-29 feast for the eyes and ears. [Sound. B/W]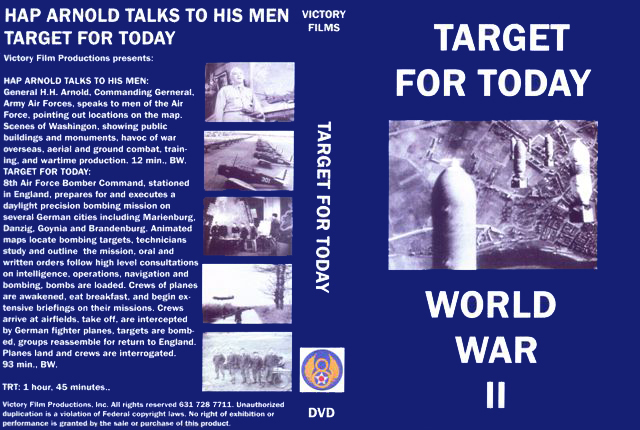 ** NOTE - TARGET FOR TODAY is temporarily sold out **
Detailed Scene Index:
1 hour, 45 minutes of USAAF footage!
Part One: Gen. Arnold - USAAF Commanding General Hap Arnold appears in a rare "message to the troops", which is his way of staying in contact with the AAF. This talk concentrates on the efforts at home and abroad. Nice footage of men and planes as well as factory scenes. [Sound. B/W]
Part Two: "Target for Today" - Produced by the AAF's First Motion Picture Unit, this in-depth documentary "has no actors" and all footage was shot "on location". This is a nice look at all aspects (air and ground) of a typical mission. The airwar against Germany is outlined and explained. Then, a detailed look at VIII Bomber Command's target selection and Field Order dissemination process from the CG down to Divisions, Combat Wings, then the Groups. Proper fusing of bombs explained. Loads of gas and bombs based on aircraft type discussed. Maintenance scenes. Crew wakeups. Breakfast.
Actual briefing scenes from the 303rd, 379th, 384th, 351st, 305th, 389th, 94th, 95th, and 100th Bomb Groups. You 8AF vets may see yourself - for sure you'll recognize faces. Then, there's the specialized briefings for Pilots, Navigators, Bombardiers, Radio and Gunners. Suiting up and jeeps out to the hardstands. B-17 Flying Fortress and B-24 Liberator taxiing and takeoffs. Assembly of 3-Group Combat Wings. Enemy aircraft encounters. Combat Wings separate into groups at the IP. Bombs Away! Combat Wings reform at the Rally Point. B-26 Marauder takeoffs for their part at this time - bombing a fighter base. 17s and 24s return. Some battle damage. Taxi to dispersals. Crew interrogations. If you've got "hot news", you report that first in the designated room (usually Channel bail out locations for Air Sea Rescue notification). Results of mission discussed. [Sound. B/W]